PC Erlenmeyer Flasks
China Professional Manufacturer
Material: Polycarbonate (PC)
Capacity: 125ml-1000ml (4.2oz-33.8oz)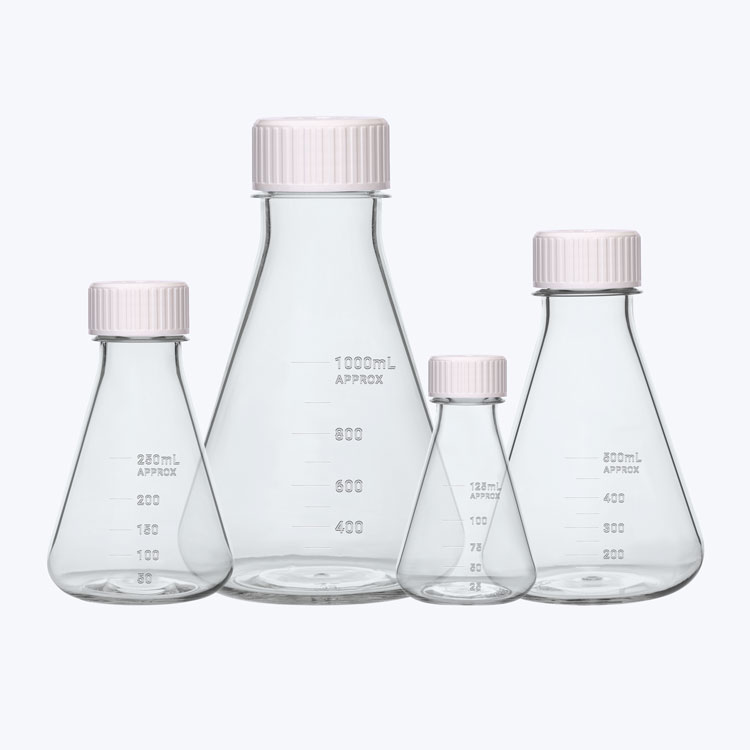 The manufacturing site is certified to ISO 9001:2015 and ISO 13485:2016.
Class 100,000 (Equivalent ISO 8) cleanroom production.
Free of BPA and other contaminants.
Polycarbonate Erlenmeyer Flasks
Item#
Capacity
Height(mm)
Diameter(mm)
Mouth(mm)
82079
125ml
4.2oz
133
66
27.5
82080
250ml
8.4oz
142
85.5
35.5
82081
500ml
16.9oz
178.5
112
44
82082
1000ml
33.8oz
215.5
134
52.5
Capacity
Height (mm)
Diameter (mm)
Mouth (mm)
125ml
4.2oz
#82079
133
66
27.5
250ml
8.4oz
#82080
142
85.5
35.5
500ml
16.9oz
#82081
178.5
112
44
1000ml
33.8oz
#82082
215.5
134
52.5
Features
Polycarbonate Erlenmeyer flasks are laboratory vessels made from high-quality polycarbonate material.
They are designed with a conical shape, a narrow neck, and a wide base, which allows for efficient mixing and swirling of liquids.
These flasks are known for their durability and transparency, making them suitable for a wide range of laboratory applications.
Company Profile
Zhuhai Ideal Biotech Co., Ltd specializes in In Vitro Diagnostics and Laboratory consumables, based in China.
We emphasize quality, affordability, and top-notch customer service.
IDEAL has made significant investments in injection molding, assembly, packaging facilities, and state-of-the-art testing machines.
Besides, we also provide private label services.